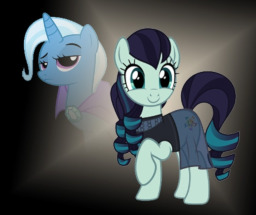 Magic and music have so much in common. Both come seemingly from nowhere in the material world. Both leave their subjects enchanted. And both can change lives forever.
In Trixie's case, not necessarily for the better.
With her popularity and prosperity waning, Trixie ends up in a backwater country village called Fall Bridge, and ends up insulting the locals almost instantly, as she is wont to do.
Down on her luck, she seeks solace at the Mermaid Tavern in the selfsame village…
And who should she bump into there but the lovely Countess Coloratura? Yes, Equestria's onetime most beloved superstar – now known as "Rara" – is also having difficulties. The tastes of music are somewhat less stable than the tastes of magic.
However, the Great and Powerful Trixie has heard her sing. She's been captured by a new kind of magic.
A plan occurs to her: a bold and ambitious plan, one that'll get the once-disgraced magician back on top. For young and trusting Rara is her golden ticket to a classy comeback…
Chapters (3)