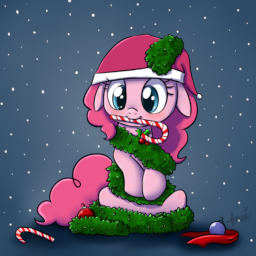 Source
It turns out that Equestria doesn't know a thing about Santa Claus, or even about Christmas. All they know of is Hearth's Warming. Pinkie intends to fix that. However, what will happen when she discovers santa doesn't really exist?
XXXXXXXX
Marked with human tag for a human briefly appearing in the story. No, it's not Santa Claus.
Fair Warning: this story is a shameless rip-off of the Spongebob Christmas Special "Santa Who". Yes, I'm not original enough to come up with my own Christmas special, so I ripped off another one.
Merry Christmas, Fimfiction, and to all a good night!
Chapters (1)