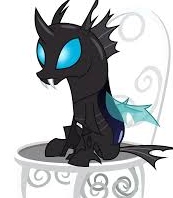 Ponyville, also known as ground zero... at least from the words of Queen Chrysalis. The ponies seem like they're keeping to themselves a lot lately. They must be planning something... They're ponies! They have to be! They're allowing changelings in, too! Traitors...
Soon enough, they'll know about everything in the changeling empire. The changeling empire is in danger! It is!...Should be...Probably is?
The best course of action Queen Chrysalis can come up with to send one of her most trusted agents to check out Ponyville and get ahead of the ponies - a mission which is definitely not stupid and influenced by paranoia.
Chapters (1)