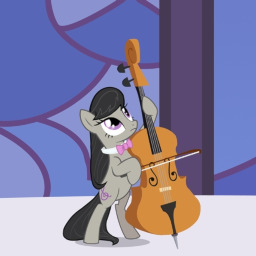 Source
Octavia's family owns a restaurant. If you didn't know her family, this would be shocking, it certainly was to one of her classmates ,Vinyl Scratch. Vinyl saw Octavia playing on a small stage in the restaurant while walking home from university, and decided to see what it was about.
Please keep in mind that the name in parenthesis in the chapter names is the point of view that chapter takes place with. Like, chapter one is Octavia's point of view, chapter two is Vinyl's, and etc.
Thanks Muzzle_luvr for helping me out with this. I'd tell you all go to read his stuff, but....they haven't written anything yet. Soooo...just know that they are awesome.
Chapters (7)