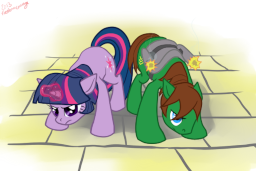 Techorse is a pony from a different planet who comes to Equestria one day. But when his old master Wizard and his team of mercenaries want to sell the ponies back home as pets, it's up to Techorse and the mane6 to stop him!
Techorse was written in the summer of 2011 before the second season came out. It was designed to follow the canon and format of the show as closely as possible while adding some new material to keep it interesting. Originally posted on my fanfic.net account, pename Spirals95, it was met with generally positive review emails. The book is over 117,000 words long in length.
I hope you enjoy reading this novel as much as I enjoyed writing it, and keep watching my homepage for the follow-up short story series!
Cover artwork by Veestormcourage
Chapters (10)