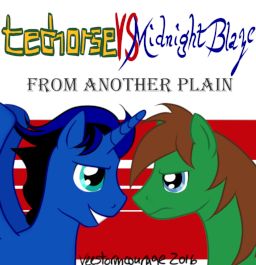 Midnight Blaze has awoken in a plain of wheat, not knowing what has happened with his most recent time travel spell. Ponyville seems to be the same, except for one little detail. Everyone in his life seems to have forgotten him, and instead know a stallion named Techorse as their friend.
This is a crossover story and collaboration between Wolven5, Midnight Blaze's owner, and myself. That being said, if you haven't read either of our series, it may be hard to understand this one.
Wolven5's page: Click Here
Cover art by Veestormcourage.
Chapters (1)