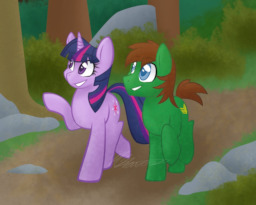 The Techorse series is a collection of short stories set in an alternate universe that takes place after the events of The Crystal Empire, where an invasion by a group of human mercenaries seeking to sell the Equestrians as pets on Earth causes changes to the timeline. Among the team, a defector was turned by their leader into a pony as punishment. Now Techorse aids the Mane 6 in their defense of Equestria and its legendary friendships.
The stories take their own path but try to keep in spirit with the source material. See the links below for the original book that started the series.
Series cover art by HoodwinkedTales.
The main Book : Click Here
Stories 1, 2, and 3 :
Pinkiespace
The Greenhouse Effect
Mr. and Mrs. Dash
I do not own MLP:FIM or any related source material.
Chapters (55)