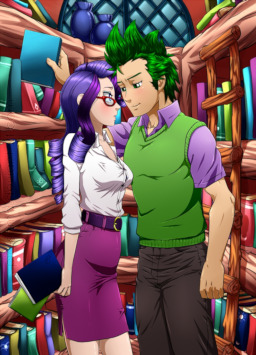 Source
When Twilight leaves on a diplomatic mission for the Princesses. She trusts the care of the library to the hands of Spike and Rarity. Which will get to them first: the patrons they try to serve or the romantic tension between the two of them...
This is based upon a picture by Pia-Sama, and with her permission, I was able to craft a story out of it. I also based this tale upon my own personal experience as a Librarian.
Hasbro owns the characters...not me.
Source for the picture in question...http://pia-sama.deviantart.com/art/Librarity-and-her-Assistant-399904806
Chapters (2)