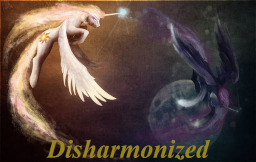 With the Ascension of Twilight Sparkle to an Alicorn, the balance within the Element Bearers has been broken. Now, they cannot be used. Twilight receives a new task, make it so the Elements can be used once again.
While attempting this task, a spell goes wrong, and Twilight finds herself in the past, and in the middle of a civil war between the two Princesses. Now, she must learn the truth behind the Elements of Harmony, and why neither her mentor, nor her sister can wield them.
Cred for helping me find this story idea goes to my two AWESOME friends, Dancing Dead and Drakvan.
This story is written for the NaPoWriMo2013 challenge. Therefor, there will be little, if any editing until I reach 50k words, or the month of September closes, whichever comes first.
Chapters (2)