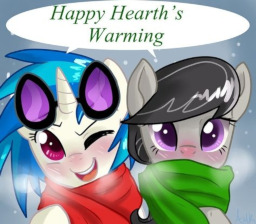 Source
Join Octavia and Vinyl for the first Hearth's Warming with just the two of them after becoming roommates. No stuck up family, no distractions, no Vinyl? Wait, What kind of Hearth's Warming is this going to be?
This is a fun prequel kind of story that takes place on Hearth's Warming Eve. This goes alone with our story According to Plan!
Story written and edited by: Coco the Bearded and Rosa Gears
Picture found on Pinterest, and will be removed at original artist's request.
Chapters (1)