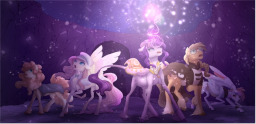 Source
A thousand years ago, our Goddess fought Nightmare Moon. When the Elements were activated, they banished all of Equestria underground, where we would be safe. I am a Prophet, All-Seer of the Church of Daylight. And our Goddess has granted me a vision that our efforts to reach the surface will finally bear fruit.
I can only hope Equestria's still up there.
---
Coverart drawn by the incredibly talented Shaslan!
Thank you to my brilliant prereaders and editors: Zontan, Holtinater, Haphazred, AFanaticRabbit, Draconequues, Dioxin, Lofty Withers, Cynewulf, Red Parade, Vis A Viscera, Bill Cipher, Ruby, Flashgen, Moonshot, Luna, and to everyone that's supported me throughout the 3+ years of working on this fic and its sister fic.
And a special thank you to Axolu. You've encouraged me from the very beginning, and I couldn't have done this without you.
Chapters (2)