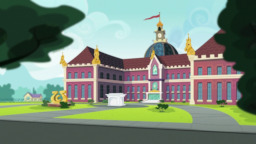 This story is a sequel to Duel to Save Camp Everfree
---
Have an argument with your friend? Duel to see who is right!
Two people want different types of dessert? Duel and the winner gets to pick!
Is there a force of evil baddies out to steal all the magic in the world and ruin everyone's day? Well you better duel them to stop them!
The city of Canterlot, like the rest of the world, has embraced the spirit of the duel. Here, any problem can be solved with a simple duel. Yet dark forces are gathering, ready to steal all of the Equestrian magic in the world and harness it for their own ends. Can seven girls wielding the heart of the cards contact their duel spirits and stop them in time? The final, epic story in my dueling series begins now!
Editing done by Alchemik
(Side note. If I get enough likes and support I will commission a new cover for this story.)
Chapters (26)