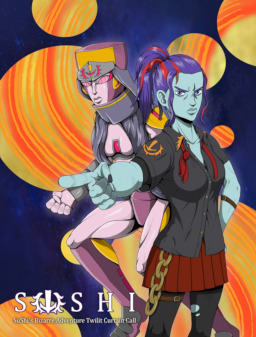 This story is a sequel to SuShi's Bizarre Adventure: Nugget Run Horizon
---
Quick note: This story takes place in an alternate reality where Sunset never left Equestria for power, instead, she left it because she felt everypony was turning against her. She also does this at a later point in time from the original Equestria Girls movie, and this now takes place fifty seven years after Sunset's adventure. In this universe, the girls never got their geodes, and so they don't have super powers. Other than Stands.
With this being the case, Twilight Sparkle has never been to the human world, since Sunset never stole her crown.
---I>>>>>>>
It's been decades since Sunset Shimmer's family saved the world from total destruction with the help of Stand power. With the world in a steady decline, a group of Stand-using activists calling themselves Die Die Riches have risen up to change the global status quo. Sunset Shimmer's granddaughter, Shiho, must follow the trail of destruction left by Die Die Riches and put a stop to their actions before they destroy the world for good. Aided by the Jojo family, Daring Do, and Twilight Sparkle, Shiho's quest will be one of the most bizarre adventures yet.
Join the Sushi group here for more Sushi content and some extras!
Chapters (35)