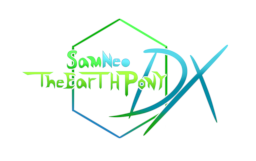 It had been a pleasant day, and Starlight went to get some fresh air. Suddenly, as if to make the day more interesting, a comet crash landed outside of Twilight's castle!
In the crater was a stallion with no Cutie Mark, who is taken into the care of the Main Six. Little do they know, the stallion has a secret power inside...
Remake of Samneo The Earth Pony from 2017-2019. I don't know if this will be taken down, since I plan to add six new chapters and I've edited a lot. Let me know if this is alright to have up. Btw, if you're concerned about the original, I will keep that story up, so that you guys can see how I changed between 2017 and 2022!

Buuut... I have to be honest here; the actual reason I remade this, is because my brain wouldn't shut up about the idea, let alone let it the fuck go, so this is basically me telling my brain "There, are you happy now!?" I'm curious to know your thoughts about this remake.
side note; Every author's note is as long as the chapter, but if this is your first time reading this, then you can ignore the notes since they go over some trivia involving the previous versions.
Chapters (6)