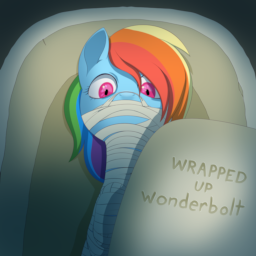 A New pyramid has been discovered! Daring Do and Rainbow Dash explore the maze-like ruins, but are separated upon taking a wrong turn. With Dash all alone, she soon realizes that not only is the pyramid built like this on purpose, but that something...or someone, is watching her.

You're probably wondering why it's E? And that is because I feel like I should, and it would provide a decent challenge. We've seen in kids media people getting wrapped in bandages, and still retain their rating, so this is meant to challenge myself. Plus this is to help cope with my depression, so hope you're okay with this. This fic is also my own take on another story made by someone I follow.
4/22/23: Now with a new cover done by the wonderful ZettaiDullahan!
Chapters (1)