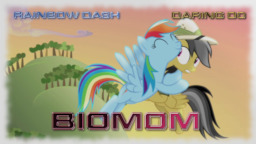 Rainbow Dash grew up not knowing who her mother is.
One Mother's Day, Twilight Sparkle becomes determined to find out who Rainbow's mother is and drag her back to Ponyville to reunite with her daughter.
There's just one little hitch:
Rainbow Dash's mother is Daring Do. And she's inconveniently off "researching" her next book.
Now, Rainbow Dash has to go on a journey. A journey of self-discovery. A journey of a thousand unanswered questions.
A journey to find...her biomom.
Oh, and there's an ancient alicorn tomb and a closely guarded secret that'll change the history of Equestria forever, but that's just another day in the life of Daring Do.
(This story ignores certain details established by the Journal of the Two Sisters and the Daring Do chapter books.)
Chapters (16)