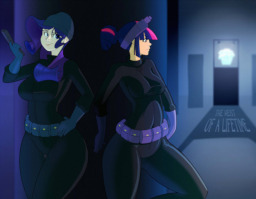 Source
Twilight and Rarity are just your ordinary mages from Ponyville. One enjoys fashion, while the other enjoys particle physics. But these girls are the best of friends, sharing many common interests with one another. So they delight in the task given to them by Princess Celestia to protect the Diamond Muffin from theft. Too bad they're vying to steal it for themselves.
That's right, Twilight and Rarity are burglars, and neither one knows it yet. But when they find out, will they try to stay friends, or finish the job first?
Art work by the awesome MrWestCoast. Be sure to check him out, mis amigos.
Chapters (5)