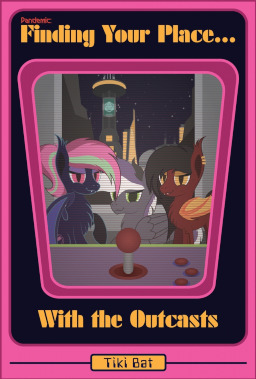 This story is a sequel to Ponies on Earth and their New Horizons
---
A mostly standalone entry in the Pandemic Universe. While the other stories offer additional lore and introductions for some characters, this story should be able to hopefully catch newer readers up as it goes along.
---
It's easy to feel like an outcast when you just don't quite fit in. This normally isn't an issue for most ponies, but Sine Wave, Zipper, and Ink Rose aren't exactly like most other ponies. Be it interests, hobbies, personalities... for one reason or another they've found themselves living outside of the norm, but sometimes being different isn't such a bad thing, especially when it gives you the opportunity to be proud of yourself for who you are. This is the story of three ponies who find their place in the world, perhaps in the most unexpected of ways.
---
Special thanks to:
Lawra, Halira, Javarod, and ModernSilver, for assisting with edits, offering suggestions and help with the story (especially in later chapters), and for being great all around. I can't thank you guys enough, the help and support mean the world to me!
Chapters (16)