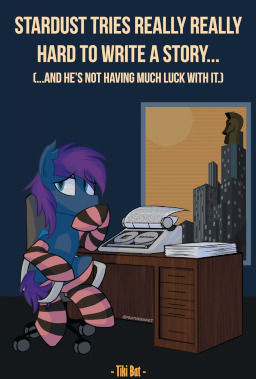 This story is a sequel to You're Probably Wondering Why I'm Wearing a Maid's Dress...
---
Stardust's been working his unusual job for a few months now and has fallen into a good enough rhythm. No job is without it's stresses though, and sometimes a good hobby is all you need to cut through it...
unfortunately for Stardust, he's hit a bit of writer's block...
---
Cover art by: Featherhors
This is just a very meta story I wrote after hitting some writers block of my own on a sequel to The Mystery of the Missing Mango Tree. It isn't really a full story and probably won't get expanded much… but you never know…
I apologize if there's any super glaring issues with it, I did primarily write it late at night after a string of particularly long and stressful weeks of work. If you enjoy this feel free to take a peek at my other stories, and if you didn't enjoy it, feel free to tell me why :p
Also if you enjoy cute hat stories why not check out my recently completed passion project? It's got a few very cute bats and even has a sequel on the way soon!
Chapters (1)