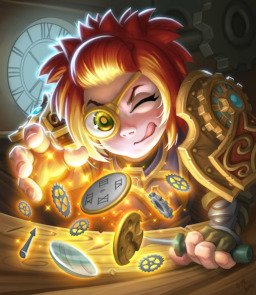 Inspired by My Dreaming Ends and My Jaws That Bite, My Claws That Catch. That and Toki being the best card in the entire Witchwood expansion.
---
Time. It marches on, regardless of your feelings, hopes and dreams, for it is the cruelest force of nature. The most unstable thing that can be tinkered with by mages. One wrong slip and the world you know is destroyed from the butterfly effect. It is a dangerous tool and one that few even see the effects of, let alone use for their own plans.
Starlight Glimmer is one of those exceptions, having used time magic in order to nearly end Equestria. It was averted by the heroic efforts of Twilight Sparkle.
There's a catch, though. You see, sweeping changes in the timeline don't go unnoticed, as several chronomancers watch over the timeline, carefully ensuring that nobody changes it without them noticing.
One of these, a gnome named Toki, travels to Equestria to tear the time tinkerer a new one.
Chapters (1)