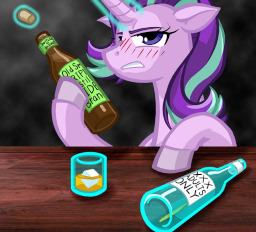 Source
The life of a reformed villain is a tough one. It's difficult to find friends who share the mindset of "I wanted to destroy/enslave the world!" due to the peaceful nature of Equestrians.
For such former megalomaniacs, there lies a little-known place called "The Salt Lick", where once a week, if you were evil enough to be a credible threat to Equestria, the barkeep will give you a discount in a night coined as "Villian's Night."
For one such unicorn, her time to discover this haven of enemies turned friends is today.
Rated T for references to alcohol and swearing.
Chapters (4)