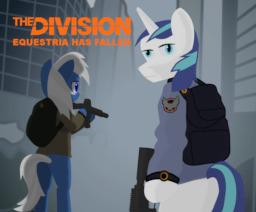 An outbreak of a deadly form of cutie pox has devastated Equestria. With the Royal Sisters infected and placed in permanent quarantine, the land has fallen into anarchy and chaos. In response to the devastation, Princess Celestia activates the Strategic Homeland Division, a secret government agency dedicated to preserving the continuity of government in the face of the apocalypse.
As a Division Agent, Shining Armor is deployed to the city of Manehattan, where the outbreak began. With few resources and even fewer allies, Shining Armor must fight to take the city back from the anarchic factions that run wild in the streets, as well as discover the origins of the deadly Green Pox.
---
A crossover with Tom Clancy's The Division. Preread & edited by Fyreside and totallynotabrony. Cover art by totallynotabrony.
Chapters (1)