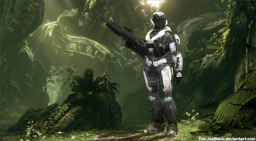 From after-war status report on SPARTAN-IIs

Name:Lieutenant Kelsey-090
Callsign: Echo Five.
Status: Assigned to Echo team as the team's sniper and second SPARTAN-II in January 2552. Listed as MIA after the Battle of New Alexandria with the rest of Echo team, presumed KIA in the glassing of Reach.
She goes by Ghost. The white unicorn mare is a legend. Nopony under her protection has failed to come back unharmed. A great shot with a set of impressive power armour, she is the last thing many raiders see.
But what they don't know is that Ghost is nothing but a bit of illusion and trickery. A front for my true form. My name is Kelsey-090. This is my story.
Little bit I wrote to get out some writers block. Just came to me when I was reading Fallout: Equestria. "Let's chuck in a SPARTAN to kick ass and take names! What the hell, why not!" So boom, have some human/SPARTAN in (Fallout) Equestria!
Also gore tag because fallout. Nuff' said
Chapters (2)