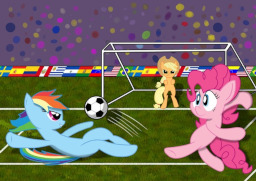 Source
Hoofball Fever has always resonated in Equestria. But now, every big city in Equestria, including Ponyville, is holding a hoofball league of their own! The top two teams from each city then gather together to participate in the first ever Equestrian Champions League! It's going to be intense 5 on 5 action as ponies go out to seek glory and wealth in winning the first ever Equestria Champions League! Ponies from all across Equestria are going to partake in what will become Equestria's national past-time!
In Ponyville, Applejack calls upon her family, while Rainbow Dash recruits her friends, each having their own competitive spirit and skill that will hopefully push them all the way to victory!
Credit to k-night-windfor the cover art!
Chapters (4)