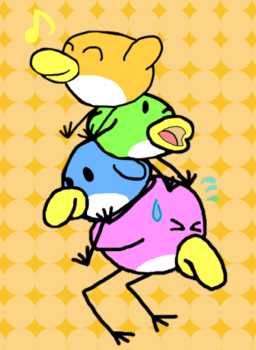 Source
The Huebirds are mystical creatures from the vast expanses of the known world. These birds come in many hues from yellow to pink! While all huebirds have short wings and stick-like feet, the Huebirds are a resilient species. Much of their ability to survive and proliferate is derived from the magic of happiness that exuberates from their very core!
While the Huebirds have traversed much of the world, there is one world which they have not explored: Equestria. None have tried to fly such a long way. But with an imaginative leader in power and some pressure from his tribe, things are soon about to change...
I got the image from Askthehuebird on Tumblr. Full credit goes to them for the cover art!
Chapters (2)