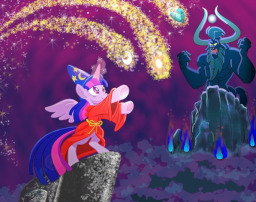 Source
Welcome to Fantasia: Equestria! In this fimfic, I will feature a classical piece and I'll try my best to make the piece come alive with a one-shot story from the MLP universe. It's a Disney's Fantasia of sorts, but with MLP! I highly suggest you read the chapter with the music I provided; I tried my best to fit the words with the music as it progressed.
Since classical pieces can be divided into movements, some stories will be divided into parts to reflect the transitions.
Thanks to Toonicorn for allowing me to use their pic as cover art!
Chapters (13)