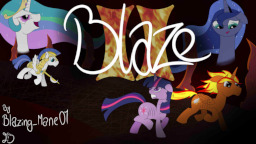 Cover art credit once again goes to Still Breeze. Thank you so much for the image, bro!
--------------------
Direct sequel to my first story, Blaze: Part I. Reading part one is recommended in order to better understand this story.
--------------------
Nearly two months have passed since Blaze and Twilight Sparkle were thrown into the Crystal Caves below Canterlot. After a chance break-in saves their lives, the two weak ponies escape and learn the truth of what has happened. Blaze then begins an insane adventure to save his mother, the Princess Luna, from Celestia's tyrannically-possessed mind.
PLEASE DON'T DISLIKE MY STORY JUST BECAUSE IT'S AN ALICORN OC. If you don't like it, please just forget about it. Dislikes won't make my story go away. Thank you.
Chapters (8)