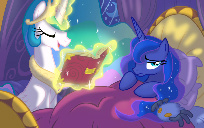 Bed time stories based off the MLP:FiM Universe.
The tags change from story to story, but are mostly these four.
These were my first ventures into Fanfiction.
They are aimed at 'foals'
Upon A Shooting Star: A young colt's wish goes haywire and he sets out on an adventure to undo it.
The Spoiled Filly: A spoiled filly learns her lesson.
The Lost Ball: Two young foals parents venture into the forest to retrieve the older filly's ball and fail to return.
Chapters (4)