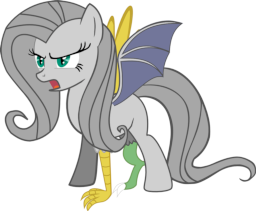 Discord finds himself in a role he never suspected to have: that of a father. In the empty white space he was banished to by the Elements of Harmony he tries to raise his daughter. Soon the former prison becomes something else. But visions of things to come and demons from the past keep hunting him.
Please comment.
This is a tribute to the anniversary of a series of fanfiction by Alex Warlorn (http://www.fimfiction.net/user/Alex%20Warlorn). It is also a sequel to my very first story "Discord: Not one of a kind." Happy anniversary!
Many thanks to Godzillawolf/kendell2 for Beta Reading this story and giving me countless good suggestions and ideas for it. I wouldn't have been able to do it without you. Thank you!
The story even has its own page on TV Tropes: http://tvtropes.org/pmwiki/pmwiki.php/Fanfic/PonyPOVSeriesChaosVerse
Chapters (10)