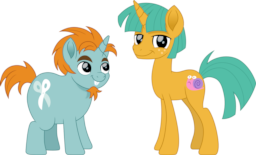 Source
Written for the M/M Shipping Contest II: 2022
The Story is set after season 9, roughly 5 years after Princess Twilight Sparkle takes the throne. Snips and Snails are both 18 in the story. The grammar does not follow the show but is rather supposed to impress upon the audience that the characters are older, better educated, and hopefully wiser.
Snips and Snails have been friends for as long as they can remember, but now they are adults, and they are ready to start dating. After being rebuffed by the Cutie Mark Crusaders, they decide to 'practice' on each other, with unexpected results.
Like all new couples, they make a few mistakes along the way. They make no apologies for how they feel but can they make their dreams come true?
Chapters (6)