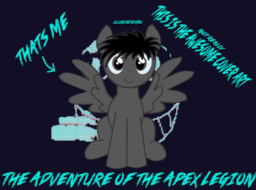 Source
Have you ever been so bored in life that you would do whatever you can to have some fun? For example, what would you say if a couple of goddesses offered you a chance to go to a whole new world entirely? One filled with mythological creatures and magic.
The answer would be "yes" if you asked one particular pony that recently arrived in Equestria. Because he's about to find out that this world will offer him new friends, some action in his life, and most importantly, adventure!
He's not considered royalty like the princesses. He's not powerful in friendship like the Elements of Harmony.
He's just your average (not really) everyday pegasus.
This is the story of the Apex Legion.
---
Takes place throughout Season 8 of MLP.
Other character tags include:
Main 6
Celestia
Luna
Discord
Profanity tag should be for obvious reasons.
Romance between lol I'm not gonna tell you.
Chapters (22)