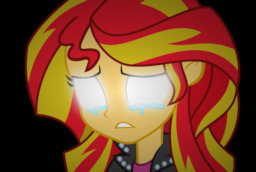 Sunset and Flash have "started over" as friends, but the guilt from her past is on her mind whenever she sees him now. With her newfound power, she could see into his mind and find out his side of their past… but she can't go invading his space without asking, right? She's going to have to wade through the emotions of her past while keeping the reality of her new life afloat.
---
Set directly after EqG:LoE, and is my take on the romantic happenings of our pony friends and a certain Brad.
Cover art done by a kind soul.
Chapters (1)