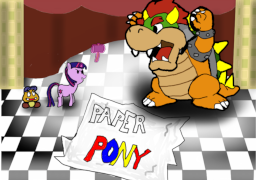 As Twilight Sparkle, Applejack, Rainbow Dash, Fluttershy, Rarity, and Pinkie Pie are about to make their way into the Everfree Forest for the first time, Bowser decides to mix things up in his world by swapping Mario with a different hero. Chaos erupts as both heroes try to find out what they have to do to get back home.
BIG thanks to my editor Twilight Mercer, also to Final Draft for making this awesome cover art.
Starting October 17th, this fic is in full production. Check out my other stories and channel, and please say what you think down in the comment section, and remember; keep it clean.
Play certain tracks when they shows up in the story with the links, right click and choose 'open in new tab'.
Chapters (6)