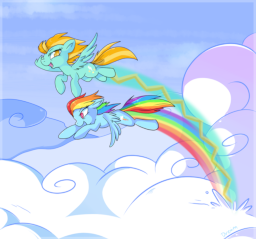 Yeah I'm cancelling this. I will probably make a remake with the same characters and plot line, but I just can't do it now, I am not qualified enough to write it.
"I'll be back before you know it guys," and off she flew. Twilight knew something was going to go wrong when Rainbow Dash flew to Cloudsdale alone, but when she heard what transpired straight from the mouth of Princess Celestia, she knew that something had to be done. Rainbow Dash, while flying through her home town, had accidentally ran into somebody she would never forget... the reckless Lightning Dust. After the exchange of a few words, Lightning Dust charged her. RainbowDash fled, but not before the Royal Guard had seen the two. Celestia, being protective of her ponies, deems them as fugitives. Once news reaches Lightning Dust, she knows what must happen. The two start working together in a truce for one reason: clear their names.
Please critique me, positive or negative. This is my first story so please give feedback so I can change what I have to.
Chapters (4)