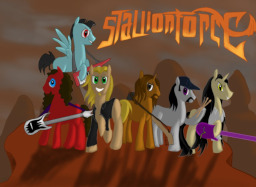 Source
So, this is the rewrite, I wonder how this will turn out.
Anyways, Hoofman Li, Sam Trotman, Diccon Lyre, and Matej Setnic are in a band called Demoniac. However, they want to start their own, they split off and create StallionForce, which would go on to become the most popular power metal band in Equestria.
StallionForce would not be without its troubles, with a revolving door lineup and popularity pannings. Will they make it through?
Chapters (6)