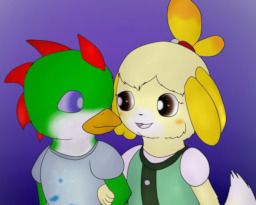 Source
This story is a sequel to Therapy With Doodle Noodle
---
Yosh has been through a lot since losing his physical eyesight. His work with Dawnbreak Horizon has waned as a result of his limitations as he has taken responsibilities with the therapist, Doodle Noodle, and aiding Princess Luna in the Dream Realm.
The waking world seems to be a loss to Yosh until an opportunity for building relations with the Diamond Dogs' hometown, Canine Crossroads, becomes available from Princess Celestia. So Yosh, along with his egg brother, Spike, join twilight Sparkle in an effort to align the floundering Canine Crossroads with Equestria in friendship and economic success.
***
This story, as those that preceeded it, are designed around sharing my own experiences in losing my eyesight along with building new ways to interact positively in the world. Yosh's character is an 'extension' of myself and telling this tale is a way to work through emotions while sharing some insight on what it is to be 100% blind.
Chapters (10)