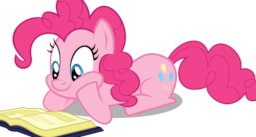 Source
Twilight and Discord have become really good friends recently. So much so that the draconequus decides to give Twilight a gift. A gift that she will appreciate more than anything else. A library, but not just any library. It's a theoretically infinite library that has any fact, fiction or picture that you want, even if it doesn't exist. After Pinkie Pie discovers it, she starts to spend a lot of time looking at "fictional" photos of her friends. If only her friends realized what they were actually doing in these photos.
Rated teen for slightly suggestive dialogue.
Cover art by JanoCota on DeviantArt.
Chapters (3)