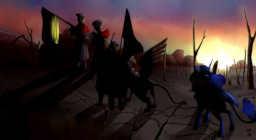 In Pace Decus, In Bello Praesidium...In Peace a Glorious Asset, In War a Tower of Strength.

The Stonebridge Military Institute: a fortress of strict regimen, training, and education. Each of its cadets relying on each other to handle the rigors of its system: to survive their first year of brutal hazing, to endure the grueling training of their second and third years, and to embrace their roles as leaders as they take on their fourth and final year.
But something has changed, the corps has been torn away from their land and forced into another. An ancient Saddle Arabian spell-book, the Picatrix, has been stolen by a revolutionary stallion and his band of loyal mercenaries to activate an ancient summoning spell in hopes of gaining a tribe of mythical 'human thralls' to their army. Despite the efforts of a lone griffon-knight in her attempt to stop them, they've succeeded.
It was an old spell though, and the humans that it was bound to have long since passed. Living near the former home of the tribe the new inhabitants are called forth to arms in their place as the: The SBMI Cadets.
((Point of Divergence for AU is end of Season 3))
((Rated Teen for violence and language; republished after substantial editing))
(I'm looking for editors, I could really use the help! Any advice would be welcome too!)
(Credit to Lola Ditz for the coverart 'Aftermath')
Chapters (8)