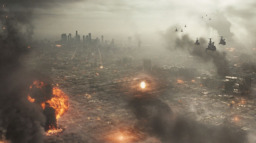 After the Battle of Los Angeles in our world a portal appears and six marines as well as some of their comrades appear in a whole new world where their same enemy is invading it.
Rated Teen for Cursing and some gore.
Need editor.
Special thanks to ConfusedTexanDreamer for giving me some ideas on how to make the story better.
Edit: Some chapters will be posted daily, others will be posted when I finish editing them. Vielen Dank.
Chapters (4)