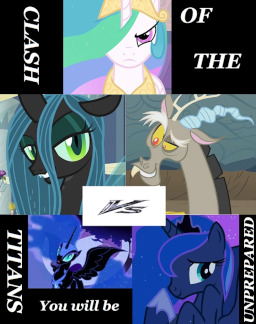 Source
When a being lives a life of immortality, said being tends to become lonely, bored, and generally manic depressive...when TWO beings are immortal, said beings tend to become inseparable and the meaning to eachothers' existence. When—and stay with me now—THREE immortal beings are in contact, jealousy and rivalry is quickly spawned. When FOUR (count'em! F.O.U.R.!) immortal beings are forced to coexist, each with very different views on life and reality, love is sparked, hatred to grown, mettle is tested, and wars are waged...when one of these immortal beings spawns a split-personality dark side, all hell is reigned upon Equestria in a Cataclysm which is foretold to occur once every ten millennia.
Your body will be unprepared.
Please please please spread the word of this! I really spent more time on this than I have on anything, and it would be very appreciated if I could receive more than just a simple comment. Like...a review. What you liked, or disliked, and if you want, some critique. Also, tell me of any spleling or grammer mistakes and such. I will hugged you if you did, :D
Rate, favorite, and watch me, because that would be awesome!
I mean, um...if that's okay with you...that is...
Chapters (2)