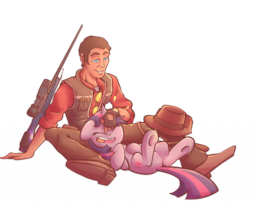 He couldn't let this lie, not now. This was his chance to pay back the one person who truly changed his life. Red Mann didn't give him this assignment, Red Sniper made this one himself. The others will not help him on this, the skilled assassin decided this was a job he can only do himself. No other shall get involved, her life was his to save... No one else's.
The BLUs were after the one that pulled him out of the gutter, out of the darkness within his mind. They showed him quite a time, and always had that smile on her face. She made him feel good about things, made him want to keep seeing the next day. To keep fighting on, so that she could keep smiling.
That's a promise, and a professional keeps his promises.
Chapters (1)