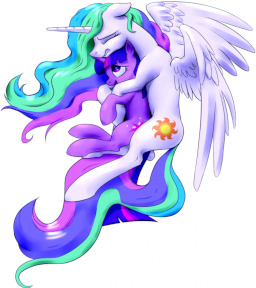 Source
Over the course of Celestia's life, she has been forced to watch her friends grow old and die, unable to give them the same longevity that she and her sister share. Even though she knows that she'd have to experience the pain of losing a dear friend again, she still cannot help but grow attached to a few particular ponies from each new generation. This pain is forever locked in her mind, but even then, she is able to keep her feelings of loss at bay.
But now, with the passing of somepony so close to her, she isn't sure if she can deal with the aftermath.
I would like to thank The Abyss for the revised story page.
Chapters (1)