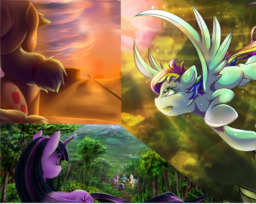 [NOTE: This story has been cancelled. However a summary of planned events has been placed in the final chapter below, providing a makeshift, yet functional conclusion]
After a freak accident at Fluttershy's cottage, Rainbow Dash and Twilight become much more hostile towards each other than any friendly disagreement, and Applejack gets caught right in the middle of their feud. All the while, the Cutie Map has activated again, sending the mane six to a strange new town in the San Palomino Desert. This community ends up hiding something bigger than anypony could ever imagine. Will the Mane Six be able to save Equestria, or will they tear themselves apart from the inside?
---
This story is in first person, but from three different characters perspectives (Applejack, Rainbow, and Twilight's POV, switching off chapter to chapter).
Rated Teen for Mild Language, Violence, very minor gore, and an overdose of awesome.
Cover Art (By Character)
Applejack
Twilight
Rainbow Dash
Proofreaders/Editors
sevenofeleven - Chapter One to Present
---
Her Frontier is the story that motivated me to write stories myself, with a few concepts being taken from it. Further credits are on my profile.
Chapters (12)