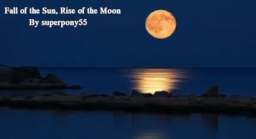 1000 years ago, Princess Luna turned into Nightmare Moon and tried to make the night last forever.
Celestia, using the Elements of Harmony, tried to banish her sister to the moon but ended up killing her.
1000 years later, Celestia's student Twilight Sparkle advanced far enough in her studies to become a Princess. Or that's what every pony thought.
Celestia knew her student would make a good ruler of Equestria, and planned to flee on the 1000th day of the 1000th year. When this happened, she left the young Princess of Magic and Night to rule Equestria. But Twilight was not completely ready, and the truth of what happened 1000 years ago came out. The Fall began. The day lasted an entire month as Twilight and her guards struggled to keep Equestria alive.
Now, Twilight was trying to fix the mess the Fall had made, and was the sole ruler of Equestria. She did not know the other Elements of Harmony other than Rainbow Dash, who along with Shining Armor and a stallion called Mare Moon (who was the reincarnation of Nightmare Moon) are her bodyguards and knights.
This is the story of Twilight Sparkle and her guards Rainbow Dash, Shining Armor, and Mare Moon (who is a reincarnation of Nightmare Moon). Twilight is about to discover who Mare Moon really is...
Chapters (1)