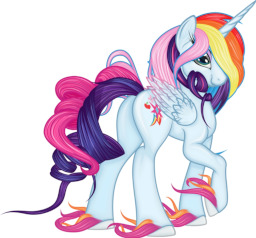 When a new pony moves to Ponyville, nopony thinks anything suspicious of her. However, when her true intentions are revealed, the Elements of Harmony are summoned to save the day. But when the something goes wrong and Twilight and her friends can't wield the Elements on their own, they do something drastic to save Equestria - they are combined into one pony to use the Elements.
*Magical Mystery Cure and Season 4 are not canon in this story*
Comments, positive or negative, are encouraged. Your feedback will help make my future stories better.
Chapters (1)