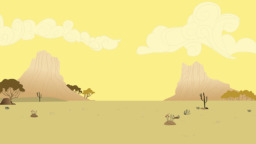 Source
Dusty wastelands, scorching deserts, jagged mountains, perilous canyons... that about sums up the main features of Equestria, a place that's less of a nation, more of a loose group of widespread towns and cities that depend on each other for supplies. But the distance between civilized places is great, the environment treacherous, and the land crawling with cutthroat bandits of all races. Who would dare trek to make sure the goods make it on time (for the right price)?
Enter the Caravaneers.
Young Earth pony Wagon Trail had always wanted to be the leader of his own caravan... helping his fellow pony, work alongside friends, fend off a few bandits, and earn some bits in the process!
So when he inherits what was left of his uncle's own caravan, including the only three crew members who didn't die in the ambush (because they weren't there), he couldn't have been more excited!
Oh, what a fool he was.
For the life of a Caravaneer is not an easy one. Food and water run low, carts and wagons break, and tensions and rivalries form. Will young Wagon Trail be able to cope with the danger, the death, the betrayal...
Will he be able to be... a Caravaneer.
NOTE: I vaguely based this off of the flash game Caravaneer.
I do not own this game, nor do I own MLP:FiM.
Also, while alternate reality versions of characters from the show will probably pop up, I'm resisting the urge to make them main characters here. I have already decided a few side characters who will have influential roles, but at the moment I don't think they will be enough to require tags for them.
One last thing... if anyone can find or draw a good picture for this, that'd be great. Just something for the time being. Thanks.
UPDATE (9/21): Okay, I broke and decided that yes, the side ponies I wanted to mention in the story will become main characters at some point. So now the main characters won't all be OCs. So I have added the tags for those future characters below. Also, added a sex tag, because there will definitely be sexual references later on. Nothing descriptive mind you, my goal is to keep this Teen rated, but it will still probably happen.
UPDATE (9/23): Woo! Found a decent cover image for the time being! Later on, once I've gotten more characters, I might try to draw (or more likely find someone to draw) a more detailed, story-specific cover.
Chapters (3)