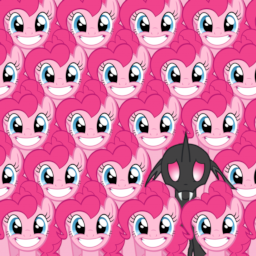 Pinkie Pie has a secret. Actually, more like fifty secrets. 
See, Pinkie isn't really Pinkie. She's actually a whole hive of changelings, working in shifts to absorb as much love as they can. Ordinarily, that works out fine for Grasshopper and her sisters--but what happens when somebuggy breaks the rules? 
Note: This story uses colored text for some important bits. Readers with colorblindness or using monochrome displays may have trouble. If it's getting to be too much of a problem, drop me a line, and I'll see what I can do!
Edited by Krack-Fic Kai. Thanks, Friend!
Inb4: Yes, this AU makes no sense and doesn't stand up to scrutiny. But it's a Pinkie Pie story, for Chrysalis's sake. Just enjoy it.
Chapters (4)