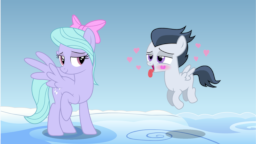 Source
After so long of thinking, planning, and worrying, Rumble has finally worked up the courage to ask out his crush Flitter out on a date. While thinking about what could happen, worrying about being rejected, Rumble tries to think of the positive. He thinks of Flitter's lovely smile, gentle eyes, lovely body, and above all else, her beautiful hooves.
Contains: Hoof worship
The requester of this commission wishes to remain Anonymous.
Chapters (2)