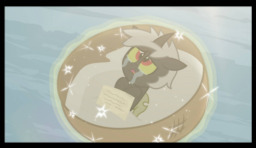 At the age of 11, Bandit, Twilight, Cadance, Spike, and Chad decided to spend the day at the park. What was supposed to be a lovely day wound up turning sour when Bandit gets a very mean-spirited message that sends him out for blood. And the sender, Solar Comet, learns the hard way that when Bandit is mad, mercy rarely becomes an option.
Don't let the teen Rating fool you, this Canon to the FaM universe.
Be warned, there will be blood. Not a lot of it, but definitely not a little. Also, the bully in question says something very, VERY screwed up.
Chapters (1)