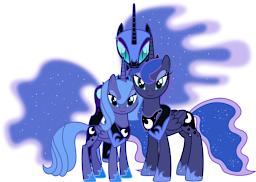 Source
Wishing she rather be in a prison of stone herself, Celestia grieves hourly about how her life as gone amiss. One Luna that casually pranks her is enough as is, but triple the matter and you have a bride for any Draconequus. Dealing with both the silliness of Luna's youth and present, the Goddess is distracted to Nightmare's plot to overthrow her. As fast as her faithful student can work, Twilight Sparkle is in search for a way to reverse the spell, the only question is: can Celestia hold out long enough?
A/N: In all fairness, I had this thing sitting in my box for a while now. Any criticism? I need work on sentence structure and flow, if you don't mind pointing it out. The emotions and characters would be nice as well!
Image belongs to 90Sigma on dA.
Chapters (3)