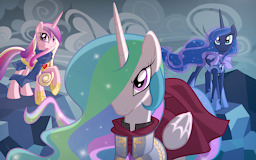 Source
Celestia awakens to find herself changed: she has, for reasons unknown, become an earth pony, waking in Fluttershy's living room. Something is immediately off about it though--namely, the fact that the pegasus is alive.
Luna, regressed to fillyhood, is surrounded by strangers who stroll about Canterlot Castle as if they own the place. Who is this Lord Winter, and where is her sister? And what's this about a war with the Dark Lord?
Cadance has suffered greatly for reasons she doesn't understand. Drawn south into a kingdom at once familiar and yet alien, she is offered sanctuary but comes face to face with the one who wronged her.
And between all three, one question remains unanswered: Where is Twilight Sparkle?
With Equestria turned upside down, ponies from past, present, and future intermingling, and with the ominous threat of a great danger set to befall the entire land, the three princesses must unravel the mystery of this altered world and uncover a way to return to their proper lives.
---
Preread, with my thanks, by Full Tome. While I'm fairly confident in my own grammar and mechanics skills, I appreciate any and all feedback. Feel free to point out my errors and inconsistencies.
Teen for language and violence. Dark tag for reference to overtly violent acts, though nothing explicit will be depicted.
Cover art by Kumkrum, used without permission. I'd like to source it better than that, but the artist's dA page doesn't seem to exist any more. If the image offends, I will gladly remove it.
Chapters (3)